As a tolling authority, you have hundreds of toll transactions to process every day within your local or regional facility. However, trucking companies can complicate this process, as they operate across multiple regions and state lines. You can simplify toll management while saving time and money when you use electronic toll collection solutions from a trusted provider.
At Bestpass, we facilitate toll management for tolling authorities with our guaranteed toll payment solutions. As the leading commercial toll payment and management platform in North America, we provide our customers with strategic value, profitability and operational efficiency. We've served as a trusted partner for fleets and tolling authorities alike for over 20 years and counting.
With Bestpass, Everyone Wins!
We bridge the gap between tolling authorities and fleets to facilitate time and cost savings for all.
Bestpass provides toll services for both tolling authorities and commercial fleets. Founded in 2001 as a toll management service, Bestpass has evolved into a payment platform with a focus on toll, now processing more than $1 billion in toll transactions each year.

As the premier payment option for commercial vehicles across the United States and Canada, Bestpass is a trusted partner on the road and in the back office for authorities and fleets, easing pain and creating win-win-win solutions for everyone involved.

Bestpass is uniquely positioned to help tolling authorities create value from the complexity of tolling for interfacility commercial operations with our tolling authority software.
How Can We Help You?
If you're looking for a solution that facilitates toll management for tolling authorities, you've found it in Bestpass. Our simple yet powerful software cuts the complexity out of handling toll payments, ensuring that you get paid without complications or delays. 
When trucking companies use Bestpass, we send them a transponder to attach to their vehicle. When one of these vehicles travels through your tolling gantry, we'll automatically extract the money from their prepaid tolling account and charge them within 48 hours. That means you can expect guaranteed payment without lifting a finger.
We understand that tolling gantries were built with cars in mind, which means trucks may not always be read correctly. When a tolling authority connects with Bestpass, our platform can identify misreads so you don't have to, using vehicle plates as a backup.
Other ways our toll authority payment software can add value to your operations include:
Guaranteed payment
Millions of fleet vehicles
No reciprocity issues for out-of-state fleet operators
Removal of fleet-centric service and billing issues
Solutions Reimagined
Our solutions are designed to bridge the gap between authorities and fleets. This toll management software integrates with tolling authorities, organizing all toll-related data that transfers to our system and assigning it to the proper vehicles and accounts.
When you use our tolling authority management software, you can expect to experience the following advantages for your organization:
Cost savings: Bestpass incurs all transponder acquisition, warranty and development costs, taking them off your hands.
Guaranteed toll payments: With our software for tolling authorities, you can expect guaranteed payment regardless of jurisdiction.
Continuous updates: Toll authorities receive constant updates with actively maintained transponder and vehicle lists, keeping you in the loop at all times.
Network support: All tolling protocols are supported within the Bestpass network.
Our Nationwide Tolling Partners
We're proud to maintain partnerships with over 50 tolling authorities across the country, and we want to add you to our list. Some of our many tolling partners include:
Ambassador Bridge
American Roads
Atlantic City Expressway
Bay Area Toll Authority
Buffalo & Fort Erie Public Bridge Authority
Burlington County Bridge Commission
Cape May County Bridge Commission
Central Florida Expressway Authority
Central Texas Regional Mobility Authority
Chicago, Illinois, State Toll Highway Authority
Chesapeake Bay Bridge-Tunnel District
Chesapeake Expressway
Connector 2000 Association
Delaware DOT
Delaware River Port Authority of PA/NJ
Delaware River Joint Toll Bridge Commission
Detroit International Bridge Company
E-470 (Denver)
Emerald Mountain Express
Florida DOT
Fort Bend County Toll Road Authority
Georgia State Toll Road Authority
I-77 Mobility Partners, LLC
Harris County Toll Road Authority
Indiana Toll Road Concession Company
Kansas Turnpike
LA Metro
Maine Turnpike Authority
Maryland Transportation Authority
Massachusetts DOT
Metropolitan Transit Authority of Harris County
Michigan DOT
Minnesota DOT
MTA Bridges and Tunnels
New Hampshire DOT - Bureau of Turnpikes
New Jersey Turnpike Authority
New York State Bridge Authority
New York State Thruway Authority
Niagara Falls Bridge Commission
North Carolina DOT, Turnpike Authority
North East Texas Regional Mobility Authority
North Texas Tollway Authority
Ohio Turnpike and Infrastructure Commission
Oklahoma Turnpike Authority
Pennsylvania Turnpike Commission
Richmond Metropolitan Authority
RIVERLINK
Rhode Island Turnpike and Bridge Authority
Southern Connector
South Bay Expressway
South Jersey Transportation Authority
The Port Authority of New York & New Jersey
TxDOT
Virginia DOT
Washington State Toll Bridge Authority
West Virginia Parkways Authority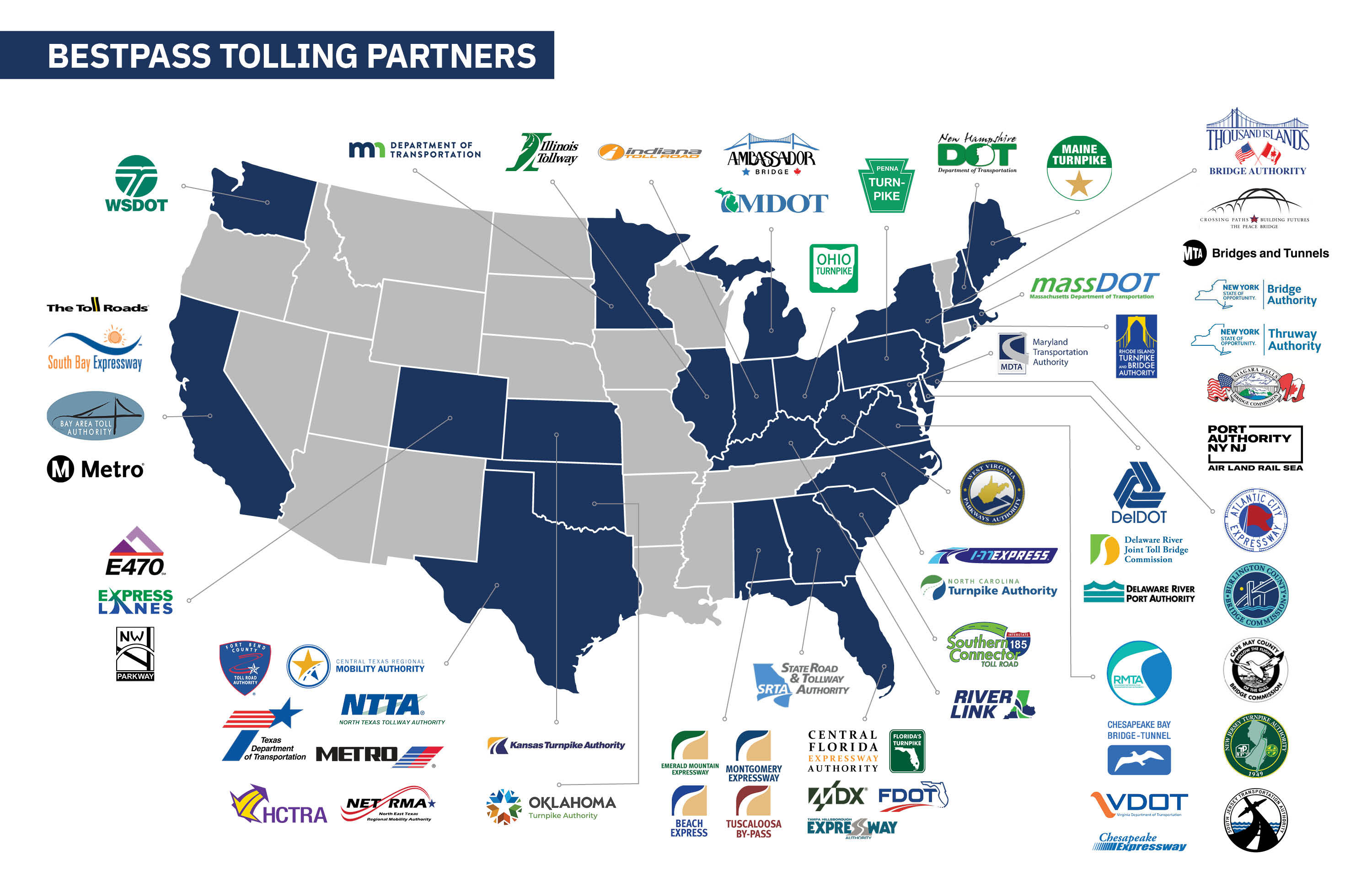 Leverage Advanced Tolling Authority Management Software From Bestpass
You can experience seamless toll management with toll authority payment software from Bestpass. Our comprehensive payment platform has helped over 30,000 customers with more than 300,000 of their daily toll transactions. When you use our customizable toll management solutions, you can streamline your operations, whether you're an owner-operator, fleet manager or tolling authority. 

Contact us today to learn more. 
Stay in Touch
Receive weekly toll resources, straight to your inbox every week